Double chins are a common condition that can occur due to natural aging, health issues, and natural aging. BELKYRA™ is the first and only FDA and Health Canada approved non-surgical injectable for adults reducing moderate to severe fat deposits under the chin. BELKYRA™ is made of a substance that is naturally found in the body called deoxycholic acid. This naturally occurring compound is responsible for dissolving fat deposits and helping the body absorb them, for permanent correction, further preventing the storage and accumulation of fat cells under the chin.
BELKYRA™ is injected under your chin and causes the destruction of fat cells. Once destroyed, those cells cannot store fat, making the results permanent. Many clients' experiences visible results after two to four treatments sessions each spaced no less than one month apart.
Yes, the effects of BELKYRA™ are permanent. BELKYRA™ causes the destruction of fat cells; once destroyed, those cells can no longer store fat, making the results permanent. There are no maintenance or additional injections needed. After the treatments, the results are permanent.
BELKYRA™ has been the focus of a global clinical development program involving over twenty clinical studies with more than 2,600 patients worldwide treated with BELKYRA™ and its American name, KYBELLA™. BELKYRA™ is a part of the Allergan family of products that include BOTOX COSMETIC®, JUVEDERM®, and LATISSE®. At the current time injections of BELKYRA™ to other areas of the body have not been researched nor approved.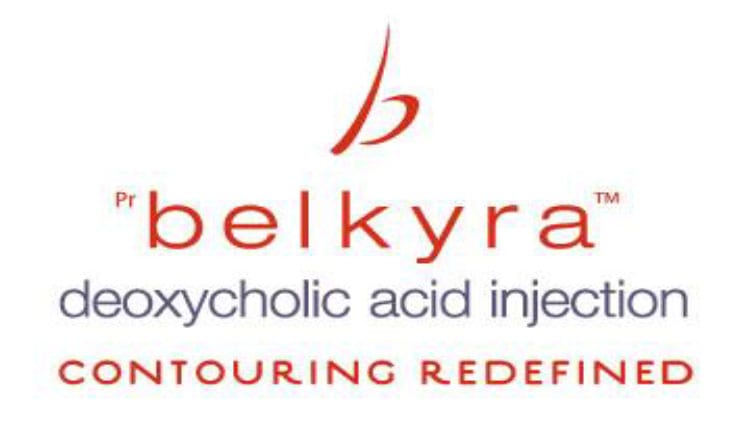 BELKYRA® is a registered trademark of Kythera Biopharmaceuticals, Inc., an Allergan affiliate.

Belkyra® is a registered trademark of Allergan Sales, LLC, an AbbVie company, used under license by Allergan Inc.